On January 2, 1970, Gruhn Guitars Inc. started life as GTR, Inc at 111 Fourth Avenue North. The original name was an abbreviation for guitar as well as the first-name initials of George Gruhn, Tut Taylor and Randy Wood. Tut and I were partners for the first nine months, after which he left to pursue business on his own and Randy was our repairman who stayed with me for almost three years. When we opened, our inventory consisted of twenty-two instruments. What I knew about running a business at that time could have fit in a thimble with room to spare, but between Tut, Randy and me we had far better knowledge of vintage instruments, the market, and repair than anyone else in Nashville and most others nationwide, and our location right by the stage door of the Ryman Auditorium, the home of the Grand Ole Opry, put us in contact with a wide variety of musicians as well as the general public.

Our first building, which has long since been demolished, measured 20 x 60 feet. The roof leaked, the heat and air conditioning were at best temperamental, and we had termites which swarmed each spring. Our office equipment consisted of a telephone and an old-style mechanical adding machine about the size of a bread box with a hand crank on the side. It could add and subtract but did not multiply or divide. The next year I got an electric adding machine which plugged into the wall and could multiply and divide. Personal computers and even pocket calculators were not yet available. It would not be until 1987 that we got a computer.

The market of 1970 was remarkably different from today. What we consider to be vintage instruments now were nowhere near as old then, but we were very aware that they were classic-era pieces far superior to the new ones. In 1970, a 1960 sunburst Les Paul or dot inlay ES-335 Gibson were only ten years old. Even a 1940 herringbone D-28 Martin or D-45 were only thirty years old. By contrast a thirty-year-old guitar today is no big deal. In fact, the early-1970s instruments are relatively non-collectible since they were made at a time when standards of American manufacturing were at an all time low. Vintage instrument prices of 1970 were incredibly cheap by today's standards. Hardly anything cost over $1,000, but it is worth keeping in mind that at the beginning of 1970 the retail list price of a new Martin D-28 was only $400.

{C}
From 1993 to 2013, Gruhn Guitars became a familiar landmark in our four-story location at 400 Broadway. The parking lot behind that shop ran right up to the property line where we started out at Fourth Avenue North and our second location at 410 Broadway where we moved in 1976 was separated by only one building from our 400 Broadway location.  While Gruhn Guitars, grew tremendously over the years, the store never physically moved more than 100 feet until June 2013 when we relocated to 2120 8th Ave S. Moving away from Lower Broadway after 43 1/2 years operating within a 100 foot radius was not an easy decision, but our new location is less than 10 minutes from downtown, has easy interstate access, is on a major thoroughfare, has ample parking and is in an up-and-coming neighborhood near Music Row and numerous music businesses. Our new location is in a larger building which has been totally customized to suit our needs. This space provides a far better setting for our customers and a more pleasant and effective work enviroment.

{C}{C}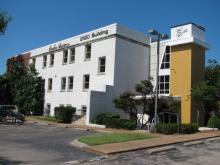 We recreated many of the aspects we loved about our 400 Broadway location and still use the display counters I had custom built in 1976. We also continue to have a high-end showroom on our second floor. However, we've included several innovative ideas in the new space, too. Most of our instrument display walls are built as frames without any additional drywall between the two rows of slat wall which gives our showroom a much more open feel than our previous space. While the amp room we used for the past 20 years was in a closet under a stairwell, our new amp room is much larger and even has a soundproof door. We've also greatly improved efficiency in areas like the repair shop and shipping/receiving. This is the type location I dreamed of but couldn't afford when I first decided I wanted to operate a vintage fretted instrument business.

While our business has grown tremendously over the years, it has sometimes been a bumpy road. 1970 and 1974 were years of economic recession. The early 1980s, when the prime rate of interest was over 20 percent and the dollar went sky high, were a great challenge for us. 1987 was another year of recession. From 2000 to the present the stock market, the economy, and the political scene have been in a state of turmoil. Many stock market investors have lost a large percentage of their net worth, however, during this same time period the fretted instrument market has been remarkably healthy. Guitar manufacturers such as Martin and Taylor have dramatically increased their output and many vintage fretted instrument prices have continued to escalate, especially prices of late 1950s Gibson sunburst Les Paul Standards, Gibson Loar-signed F-5 mandolins, and pre-World War II flat head Gibson Mastertone banjos.
While we have come a long way since 1970, the basic foundation of our business principles remains unchanged. Knowledge, integrity, and service are remarkably low-tech. While we now update our website daily and provide color photos of every item on our inventory, the ability to properly identify, describe, and appraise these instruments does not come out of a computer. We have a staff of seven full time repairmen whose sole job is to service instruments we have for sale. Although we have power equipment in our repair shop, the vast bulk of the work is done by hand using techniques which would have been familiar to craftsman a century ago. While I use the same basic low-tech skills as when I started, I now have the experience of collecting and dealing guitars since 1963 and running a business since 1970. The Gruhn staff continues to gain knowledge and experience with each passing year. We have numerous staff members who have been with us over ten years. Our business is based upon knowledge, integrity, and service. We work to build relationships with our customers and depend upon repeat business. While we always appreciate new customers, I still deal today with numerous customers I first dealt with in the 1960s before I opened a shop.
We appreciate your business and look forward to serving you for many years in the future.
Sincerely, George Gruhn